Within the video Training a Retriever Puppy are invaluable lessons and a TOTALLY new way of looking at how to start your Labrador or Golden Retriever.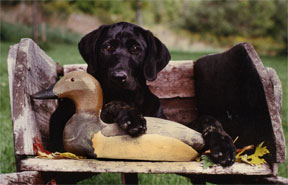 Bill explains his way of starting a retriever puppy, to get him started in the right direction.
This beginning training will create habits and form a relationship that will be the foundation for any retrieving activities whether it's hunting ducks, chasing a tennis ball in your backyard, or going into competitive events. The most important part of the beginning stages of Labrador retriever puppy training is to develop a relationship with the puppy that will create a bond or a partnership. This will be based on respect and kindness. This will create a partnership that will last forever. Good training is not one giant lesson, but small and gentle lessons that mold the puppy to be the model that we want. If you have the idea of going forward into advanced retriever training or competition this information will be an excellent introduction to the basic program of almost any professional gun dog or retriever trainer.
Training a Retriever Puppy – Revised Edition shows three different retriever puppies being trained in front of the camera.  This video does NOT show dogs that are already trained.  This is a training method dedicated to how you want your puppy to BE more than what you want your puppy to do.  Emphasis is put on keeping your puppy in BALANCE.
New topics are:
Reinforcing the SIT command as compared to making a correction on the SIT command.
Introducing "Here" with a line before the puppy is ready for the "Here" command.
Using "Fetch" as excitement, making it a game, in essence INTRODUCING the command "Fetch."
Two kinds of puppy marks used before a puppy is steady.
A meaningful 5 min indoor session when time is short.
Progression of marks with thrower/bird boy, once a puppy is steady,  advancing his level of steadiness.
Developing a pup's marking with "walking marks" and the "Firedrill" once he has learned the mechanics of doing a mark.
The Y Drill: "We want a dog to learn how to focus on a spot," as Bill demonstrated his favorite marking drill.
In depth discussion of when Bill likes to use orange bumpers or white bumpers.
Homeplate:  Bill shows how to teach a dog to "go back to homeplate."  Also an experienced dog with the Homeplate skill runs the Y Drill, essential to develop a great marker.
---
"I tell all of my puppy buyers that Bill's video is where they can learn to get their puppy started in the right direction, starting them at home. Every retriever puppy owner should have Bill's video.
---
---
Bill Hillmann's new DVD is a must-have for all retriever enthusiasts; it stands alone with its unique approach to training. This DVD presents the progression of a puppy as he learns and grows with Bill over a period of time. .. the viewer sees the day by day progression of this throughout the duration of the DVD. The bond that develops with Bill is striking to watch and the many tips embedded throughout can benefit novices and experienced trainers as well.
| | |
| --- | --- |
| | Vicki Lamb - Author, professional trainer and columnist for Retriever Journal, Just Labs, Hunting Retriever and others |
---
| | | |
| --- | --- | --- |
| | | |
| Golden Retrievers | Chesapeake Bay Retriever | Labrador Retrievers |
In Bill's words: "In retriever puppy training the key is to get the retrieving going first. You have to have a wild puppy before you start to do obedience. First thing is to get them wild to retrieve. If they aren't wild to retrieve, you don't want to start making them sit and walk on a lead. First they get wild, then you balance that with the leash and the sit command. The same balance should be carried throughout the dog's life. Every dog is different and the training program must match and balance their unique personalities. All dogs need balance, and a puppy trained with the correct balance is eager to retrieve, obedient on the line, and in the field, and extremely HAPPY."

 

Bill shares his many years of experience and explains his way of starting a retriever puppy. Contained in this newly released 5 1/2 hour Training a Retriever Puppy DVD are the methods and secrets to produce a fabulous retriever whether you are interested in a family pet, a hunting dog, or a dog for competiton. This is an opportunity to learn Bill's way of creating a special balance needed to create desire and trainability.

Bill teaches steadiness very young and introduces excitement very differently than most conventional training. He becomes a "traffic cop" in his introduction to steadiness, as he throws the bumper himself. To counter this early steadiness Bill uses a lot of happy bumpers to keep the excitement level of the puppy high.
  Video Excerpts
1. "Introduction" Excerpt:
"This film is going to explain my way of starting a retriever puppy, to get them started in the right direction. This is the same information you'll need whether you have a springer spaniel, golden retriever, poodle or any other breed that you want to teach to retrieve. This beginning will create habits and form relationships that will be a foundation for any retrieving activity whether its hunting ducks, upland game or chasing a tennis ball in the park, or even going into competitive events."
2. "Wild to Retrieve First" Excerpt:
"The key to this type of training is to get the retrieving going first. You have to have a wild puppy before you start to get them to do any obedience, or sitting or anything like that.. first thing is to get them wild to retrieve."
3. "Live Bird Introduction" Excerpt:
"Don't take it away from him right away. Get ahold of him first, otherwise he's going to be reluctant to come back to you. Keep the excitement up! You want him to be real , REAL excited about these birds. I'm not trying to get him to retrieve. All I'm doing here is getting him excited about live birds."
4. "Happy Puppy" Excerpt:
"Now this puppy is happy and if you don't have a happy puppy you're not doing it right. A puppy has got to be happy. You don't want an unhappy puppy, or one that is getting too much discipline for the amount of happiness he has. He has to retrieve and love it! You can't go forward with any obedience, any commands, any sitting, anything like that if he's not happy and loves retrieving. That is step one!"
  What People Are Saying
Training a Retriever Puppy is the one and only DVD to buy! We recommend it to all our clients and friends who are thinking about getting a puppy. We recommend it before they get their puppy, to watch it and study it. This has given our puppies a head start towards reaching their potential, no matter what direction they want their puppy to go. Thank you Bill and Mary for your time and effort to the retriever world.


Lyle Steinman  

Castile Creek Kennels
"I feel the Hillmann Puppy Training Video is a very fair and humane example of how to properly develop a retriever puppy. A balanced puppy most likely results in a balanced dog. Taking in young dogs that have followed Bill's program is making my job a lot easier and is resulting in faster and better progression."


Tim Springer  

DynamicRetrievers
"My wife bought me "Training a Retriever Puppy" as a Christmas gift. I have watched it twice and will watch it many more times. It is very informative and your presentation was great. I'm wanting to add a link to it to my website, because I believe anyone with a puppy should have this DVD."


Jerry Day   

Former amateur trainer for over 20 yrs + owner of DOGS AFIELD. Winner of ESPN Great Outdoor Retriever Challenge, Presently owner + trainer at DAYS END RETRIEVERS
"I have trained a lot of young dogs and they have turned out pretty well, but I have never come close to the success that Bill Hillmann has consistently enjoyed. The secret's out! I am changing the way I train puppies and can already see beautiful results."


Joe Skaggs  

Professional flyfishing guide, amateur retriever trainer
"It often goes unrecognized how critical early training can be in the life of a puppy. Most individuals are unaware of the opportunities to create intensity, desire and tractability at a very young age. For the first time ever we are presented with a DVD which lays unprecedented ground work . . . . Bill Hillmann's Training a Retriever Puppy is surely a masterpiece and a definite must for any owner wishing to give his or her puppy the very best start."


Alex Washburn  

COOLWATER KENNELS ESPN Great Outdoor Games Goldmedalist, National Amateur Finalist, World Retriever Championship Winner
They can all do it. .. you just have to bring it out in them.